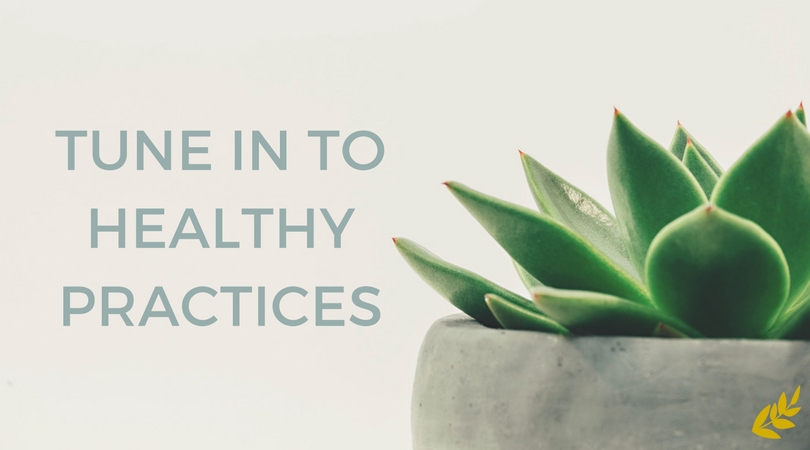 As I scanned through this year's health trends, I felt a case of shiny-object syndrome creeping in.
Would moringa cure all inflammation? Do I need to boost my coffee with collagen? Do I need to start tracking lunar cycles? What else am I missing? What have I been doing with my life?!?
Before I ordered all the things off Amazon, I stopped. This is just the reaction that was intended. The promised "boosts" and "hacks" activated the pleasure and reward system in my brain. I was swept up by novelty.
Health Trends are Distracting
Health trends distract us from discovering our own definition of health and wellness. They prey on the human desire for quick fixes rather than prompt us to engage in honest self-evaluation and behavior change.
Sleep, a "trend" of 2018, is just one example. Instead of discussing behavior changes, such as avoiding caffeine in the afternoon or stepping away from the screen and food hour or two before bed, the reader is presented with a slew of products and apps.
I'm the first to acknowledge the importance of sleep and body positivity. But, when these topics are thrown into the mix with other trends and novelty products, the average consumer (myself included) can lose sight of their own truth.
Before we start hacking and boosting our health with products, let's tune out the noise and tune in to the foundational healthy practices that will bring us the greatest sense of vitality.
Tune In To Your Own Healthy Practices
There is no cure-all, there is only a steady commitment to developing your own health practices.
Discussing habit formation and behavior change is way less sexy than matcha powder, but these practices will bring you sustainable health.
To discover your own healthy practices, focus on your physical and emotional wellbeing.
You're probably thinking, "well thanks for nothing! What does that even MEAN?"
It means six things:
For your physical health, focus on what you eat, how you move, and how you sleep.
For your emotional health, focus on how you feel, think, and act.
After some experimentation, these are some healthy practices that work for me now, but they'll likely evolve.
I could give you a whole list of ideas on how to pursue these areas, but this is something you really need to spend time figuring out for yourself.
But to get you started, when considering your physical health think about habits such as getting 7-8 hours of sleep each night, eating enough macronutrients, and moving every day. For your emotional health, consider practicing mindfulness and meditation.
While figuring out what physical and emotional practices align with the six areas, give yourself some grace. What works this year, might not work next year—it's a lifelong self-experiment. All practices are meant to evolve to fit you and your season of life. As long as your self-experiments are rooted in the six foundational areas, you're golden.
After establishing your foundational healthy practices, you'll have a filter through which to view all health products and promises, trendy or otherwise. You'll be able to decipher which trend is worth testing, and which is just a distraction along your health journey.
Because, Science
Another filter to consider: science. Diving into health and wellness research can be a black hole. You'll likely find articles that support or disprove the same exact topic.
This can be extremely frustrating and disheartening.
I've done research because I love learning about nutrition and wellness. Also, I come from a family of scientists and I married one, so my decisions and behaviors are often questioned by citing scientific studies. I've learned to be prepared and aware, or be grilled!
So you don't spend hours pouring over peer-reviewed research that makes you want to scream "to health with it!" (or something similar), use this super-scientific filter:
If it seems too good to be true, it probably is. If it seems too obscure, it probably is. If it raises an eyebrow, walk away.
Side note on having scientific discussions: Not everyone is impressed by citation slinging. In fact, this is a great way to lose friends. What works are your personal stories—stories about how a behavior change improved your health.
Enjoy the Pursuit
Healthy trends tend to make us feel like we're doing it all wrong—that we're not healthy unless we do X, Y, and Z.
Everything starts and ends with your physical and emotional wellbeing. You won't get it 100% right or achieve the perfect state of being.
Health and wellness is a journey that can be ongoing, but it doesn't have to be wearing. Find your foundation, and thrive.