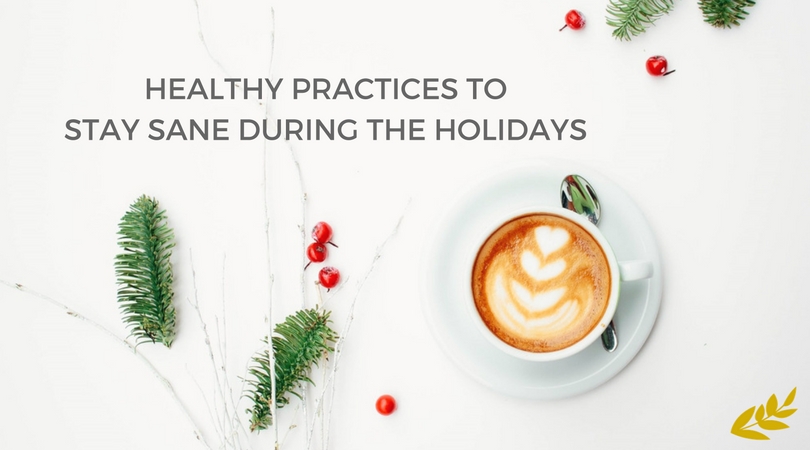 The holidays should be a season full of joy and celebration. But often, our emotions can range from delight, to exhaustion and overwhelm.
Stress around the holidays is typically unnecessary and our own fault. Unless you find happiness in perfectly wrapping every present, cut yourself some slack.
People aren't going to remember those details. They're going to remember that you were a joy to be around and that you made them feel loved.
This year, let's focus on the meaning of the holidays — being thankful for all of life's gifts.
To help keep this focus, here are some healthy mind and body practices to stay sane during the holidays.
Take Events Off Your Calendar
Between community celebrations and invitations from friends and family, you could easily have an event scheduled every day of the week.
If you're dreading attending these commitments, stop it! This is so unnecessary.
Cross off the events that feel like a duty call and only keep those that truly bring you happiness. People can tell when you don't want to be there, so do yourself and them a favor by not going in the first place.
For the events you do choose to attend, you'll enjoy connecting with friends and family and leave feeling happy, not drained.
Some people suffer from FOMO. I'm an advocate of JOMO – the joy of missing out. If I'm not excited to go, I say no.
Be Present with Yourself and Who You're With
Have you found yourself feeling sad and stressed despite the festivities unfolding around you? (raises hand)
With all the distractions and task lists that come with the holiday season, we can lose touch with our own mental state. This is not good.
Staying connected to our own wellbeing is important always, but especially during the holidays.
If you find yourself in an ugly, stress-induced cry this is clear signal you need to check in with yourself.
Every day, take a few moments to reflect. How you feel, really? Why did you snap at your loved one?
When you practice self-awareness, you can be more fully present with who you are with and where you are.
Moving forward, how can you be more present? How can you bring energy to everything and everyone around you?
Take Time To Relax and Recharge
If you've already done the ugly cry, you definitely need to schedule some personal time to relax and recharge.
Relaxing doesn't require a day-long yoga retreat. You can sneak in five minutes of quiet time between activities. If you have a house full of guests, you could even take an extra five minutes to do some calming breaths in your bathroom.
Relaxing and recharging will help you stay present (see above).
Stick to Your Exercise Routine
Don't compromise the healthy decisions you've made all year long. You made a commitment to your health January through October, why should November and December be any different?
You may need to scale back due to traveling and scheduling, but try your best to stick with your exercise routine.
When I know I'll be away from home, I plan ahead and think about when I can squeeze in some movement. I look up running routes, pack my barre3 ball, and scope out ideal times to workout.
I know once I arrive it'll be hard to set aside time to plan and it will only pull me away from family longer.
Now, I can just execute and stick to the lifestyle that makes me happy.
Have a Glass of Wine, But Don't Forget About Water
Holiday parties are often accompanied by heavy appetizers, desserts, and alcohol. The temptation is real!
The unlimited access and social pressure can lead to overindulgence, and later guilt. Sounds like a fun time…
Before Thanksgiving, Seth Godin addressed the difference between full vs. enough. He said:
One of the lessons of Thanksgiving is that we eat too much. We eat until we're full, experiencing the sensation of too much.

It's easy to confuse our desire for that feeling with the feeling of 'enough'. Enough doesn't feel like full, but that's okay.
Similarly, Melissa Hartwig's concept of food freedom teaches that it is OK to try a dessert (or any other food or beverage) if you have consciously and deliberately made the decision to eat it, and that you're not eating it out of habit or social pressure.
If you're satisfied after one bite, stop there. If you loved it and it will be worth it to you, enjoy!
During the Holidays, I drink wine with my sisters because it's worth it and I eat my Uncle's amazing desserts because he should be a professional chef. I consciously make these decisions and don't regret them later.
The food you eat during the holidays should never leave you with regret. You should be able to enjoy the season regardless of what is on your plate or in your glass.
Cheers!
These healthy practices help me stay sane and feeling energized throughout the holidays. I hope they do the same for you.
Take care of yourself, and each other, during this holiday season.
Cheers to you and yours!