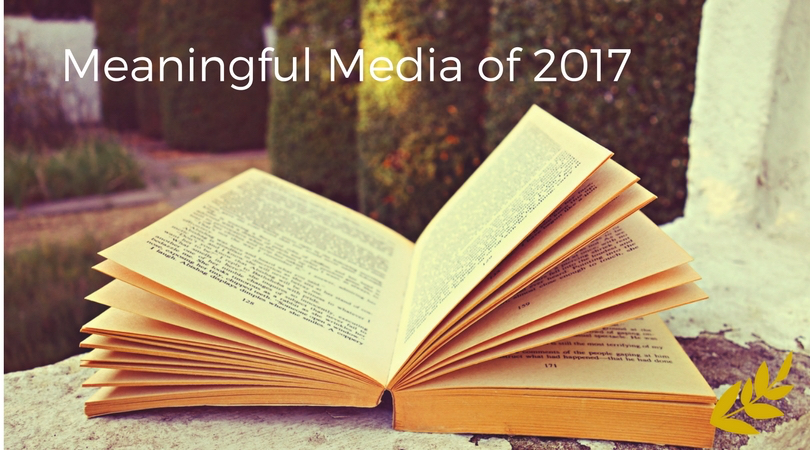 Have you ever read something that shakes you to the core? So much so that you have to pause and let your bones settle?
Last year I shared the messages and media that shook me up and left a mark on my soul. I enjoyed reflecting on the messages and loved reading your responses, so I decided to continue the theme and make it an annual tradition.
Selecting this year's meaningful media felt like picking between my favorite children (and I don't even have children!). To set some parameters and not present you with a dissertation, I selected one podcast, nonfiction book, fiction book, and blog.
So, (drum roll please) I now present you with meaningful media of 2017.
SuperSoul Conversations
Oprah's SuperSoul Conversations podcast is a collection of interviews curated from her 'SuperSoul Sunday' show. All interviews center on finding connection, meaning, and spirituality.
Initially, I was hesitant to test it out because Oprah's Oprahaness can sometimes rub me the wrong way (cue the bellows). But, after a few episodes, I was hooked! The conversations always challenge my thinking and spark personal reflection.
Some of my favorite episodes have been interviews with Brené Brown, Elizabeth Gilbert, and Glennon Doyle.
Love Warrior
I don't often cry while reading books, but Gelnnon Doyle's words brought me to tears. In public!
While flying to Chicago her stories of suffering, self-discovery, and redemption flew into my heart.
Doyle's brave memoir, Love Warrior, is packed with painful truths about struggling with bulimia, addiction, infidelity, and self-worth. Even if you don't struggle with these areas there are lessons for everyone—lessons about facing our pain and breaking away from socially defined roles that don't align with our identity.
One of my favorite parts is when Doyle is talking to her elementary-aged daughters about the definition of sexy. The question arose after her kindergartener shook her hips while proclaiming she was sexy.
If I have daughters one day, I am fearful of encountering a similar scene. A scene where my response could set them on a trajectory of self-love or self-loathing. Doyle's careful words have been added to my toolbox.
Doyle tells her daughters, "A sexy woman knows herself and likes the way she looks, thinks, and feels. She doesn't try to change to match anybody else. She's a good friend to herself—kind and patient….She doesn't hide her true self because she's not ashamed."
Doyle's words are just as relevant for a kindergartner as they are for a grown woman. Her words shook my soul.
The Handmaid's Tale
While attending my mom's book club, I was strongly urged by one of the members to read The Handmaid's Tale by Margaret Atwood.
She said, "It is a must-read for every woman. It is disturbing."
With a claim like that, in parallel with the surging popularity thanks to the Hulu show, my curiosity was piqued.
This is indeed a must read. Originally published in 1985, Atwood's novel explores issues around power, gender, and religious politics. The main idea is the United States' liberal democracy was overthrown and transformed into a theocratic dictatorship.
This March, Atwood published a captivating article discussing what her novel means in the age of Trump. It's a long article, but it's worth your time.
"Ignoring isn't the same as ignorance, you have to work at it." – Margaret Atwood
Orbit Media
Switching gears to professional development, Andy Crestodina's blog is pure gold for a marketing strategist.
His twice-monthly posts dive deep into a given topic and provide lessons I can immediately implement. It is my go-to destination for content marketing and SEO. I read his blog regularly and refer back to it often.
Meaningful Media
Whether it's seeking personal or professional growth, I am hungry for media that adds value to my life. The outlets listed above made the cut for 2017.
What media did you come across this past year that was meaningful and added value to your life? I'd love to hear about it in the comments below.