New Mexico is known as the "Land of Enchantment" and after one day we were spellbound.
We visited Carlsbad Caverns National Park, Santa Fe and Albuquerque.
Carlsbad Caverns National Park
After going to the tallest point in Texas, we hiked a few hundred feet underground in New Mexico.
The Carlsbad Caverns National Park is eerie and mythical. The perpetually cool temperature, dim lighting and amorphous geology created an out-of-this-world scene.
For about 3.5 miles, we meandered through stalagmites, stalagmites and vast rooms.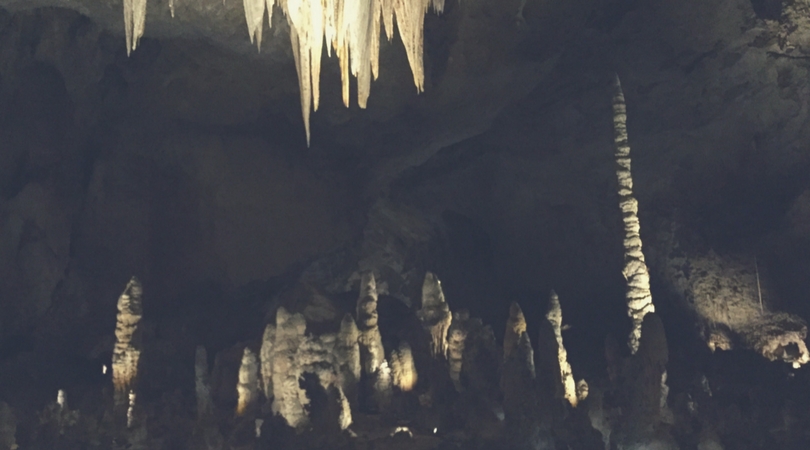 Emerging like moles, we blinked at the shockingly bright sun.
We jumped in our traveling home to continue our journey. Next up, Santa Fe.
Weekend in Santa Fe
Santa Fe throws some spice on the bland, strip mall towns that dot the United States. The adobe buildings and lack of high-rises were a breath of fresh air.
On Saturday, we started at the Farmer's Market. The building was full of produce and goods despite the winter season. The scene was abundant with culture. Dried chili peppers hung from awnings, southwestern colors adorned tabletops and live music wafted through the room.
We picked through the Santa Fe streets, stopping in Savory Spice, Collected Works Bookstore and many more.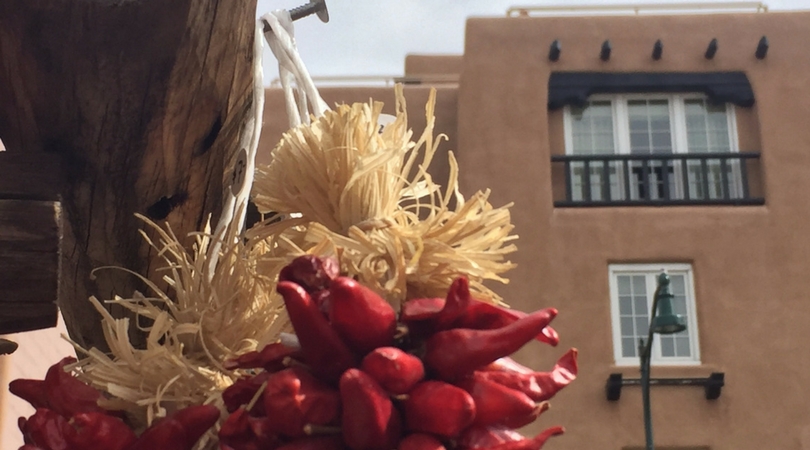 The Santa Fe Plaza, a National Historic Landmark, is a unique mix of present day stores, historical Spanish influences and Native American culture.
If you have a few thousand extra dollars to burn, Canyon Road offers an endless stream of art galleries. Indigenous, modern, impressionist art – you name it! We are definitely not in the market, but enjoyed seeing the local art.
Our New Mexican meals were phenomenal! For lunch, we ate at the critically acclaimed Shed. The family-run restaurant is located in a 16th century building with adobe styling and low-hanging door frames.
Every bite was packed with flavor. New Mexican food emphasizes chile sauce, and The Shed's has a kick. My stomach is grumbling just thinking about it.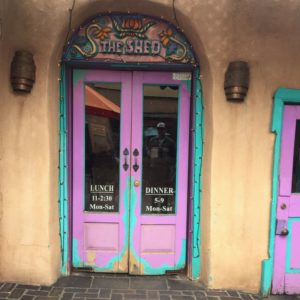 For dinner, our hosts took us to one of their favorite local restaurants – The Tune Up Café. A cozy setting, friendly service and unique menu left a very good taste in my mouth.
On Sunday, our hosts took us to Ghost Ranch. Georgia O'Keeffe owned a piece of the ranch and guests have included Ansel Adams and John Wayne.
Now an education and retreat center, the ranch also has a network of trails. The Kitchen Mesa Trail led us to a sweeping view.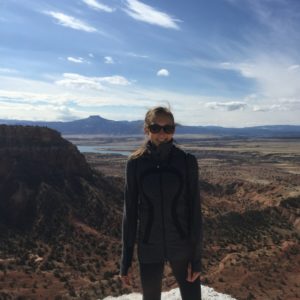 One Day in Albuquerque
We spent a day exploring Albuquerque. For curiosity's sake, we walked around Old Town, downtown and Nob Hill.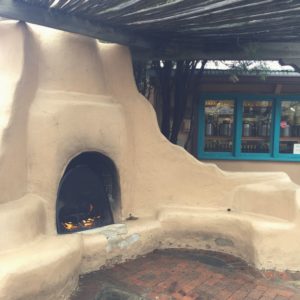 Java Joe's in downtown Albuquerque (ABQ) was the perfect spot for lunch. The café serves breakfast all day and the work of local artists adorn the colorful walls. Relaxing and people watching while we ate gave us a glimpse at the ABQ way of life.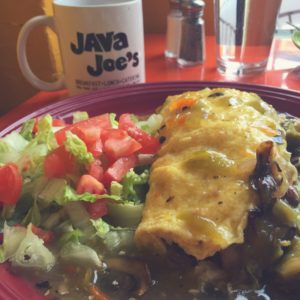 Another fun stop was Casa Rondeña, an adorable winery tucked right outside the city limits. We opted for a tasting and the locally sourced wine was delicious.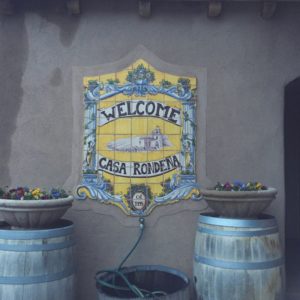 New Mexico has always been on my radar and I'm thankful for the opportunity to have gotten a taste of its culture and geography.
Exploring Santa Fe felt like coming home. You know you've come across somewhere special when you start imaging what daily life could look like.