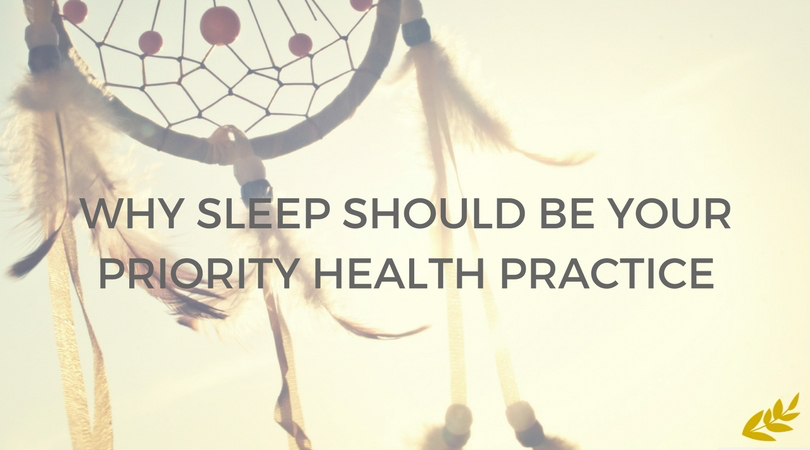 After a night of tossing and turning, I immediately feel the impacts of lost sleep.
My ability to process information quickly, think creatively, and maintain emotional stability are out the door. I'm apt to cry for reasons lost on me. Just ask my husband.
Getting in a good workout is out of the question. A running route I know like the back of my hand feels like it's morphed into Mt. Everest.
These feelings are rooted in science. In the short-term, lack of sleep has been shown to slow down certain brain cells, increase cortisol levels (stress hormone), and lead to fatigue. So, not only is stress causing us to sleep less, less sleep is correlated with increased stress. Talk about a vicious cycle!
In the long-term, sleep deprivation is linked to weight gain, Alzheimer's, and a shortened lifespan. Yikes!
All these doom-and-gloom facts could give anyone insomnia. But, these facts are exactly why improving our sleep should be our priority health practice.
"Banking sleep," eating healthy, or exercising can't counteract the effects of sleep deprivation. For that, you actually have to sleep.
Chasing the Sleep Status Symbol
I know quite a few people who struggle with achieving the latest status symbol, myself included. And yes, the New York Times dubbed sleep as the new status symbol. Really?
We know the benefits of a full night of rest, but achieving the token 7 to 9 hours of sleep is a hard-won battle.
Some nights I lie in bed urging my brain to shut up so I can actually perform the next day. This pressure never works, of course.
After some self-experimentation, I've found some practices that work—at least for now.
My self-experiment came after years of major struggle. In undergrad, sleep often eluded me until I'd call my boyfriend (now husband) and he'd help calm my mind. Then, after marriage, the help became the problem. Do you really have to breathe while you sleep? So loud! So deep! So jealous!
I'd be cursing him when really it was my own fault.
About two years ago, I jumped on the Whole30 train in an effort to improve my sleep. It worked! During the program, I evaluated my habits and made behavior changes. These healthy sleep practices and more are listed below.
I hope you can take some of these and apply them to your own journey towards better sleep.
Healthy Practices for Deep Sleep
1.  Don't Eat Fruit (or anything else) a Few Hours Before Bed
This one I discovered while doing my first round of Whole30. I had been in the habit of having frozen fruit right before bed and without fail I'd wake up two hours later feeling hungry. I learned this sugary snack was pushing up my insulin levels, leading to a blood sugar crash in the middle of the night. Face meet palm.
2. Stop Drinking Coffee by 11 a.m.
I know, you're probably thinking, "11 a.m.?! That's so early!" But, did you know caffeine has a half-life of 3 to 5 hours? This means at 4 p.m., half of the caffeine from your 11 a.m. cup of coffee is still in your body. Also, a study found consuming caffeine 6 hours before bed could reduce sleep time by 1 hour.
Instead of a 3 p.m. cup of coffee, I now opt for herbal tea. Bengal Spice and Sweet and Spicy are great, rich tasting teas for making the switch. Yes, making the switch will suck. But, after about three days your headaches will be gone.
3. Establish a Nighttime Routine
Nighttime routines are great for kids, helping them wind down from the day's excitement. It turns out this is a best practice for adults, too.
Lately, I've been testing a few routines and have found the following timing and combination to work wonders. By 8:30 p.m. all screens are put away. OK, I do my best to put away screens by 8:30 p.m…but right now it's 9 p.m. and I'm fine-tuning this post…
At 9:15 p.m. (early to bed, early to rise!) I start my routine consisting of a series of stretches, writing in my gratitude journal, reading for entertainment, and listening to a guided meditation via the 10% Happier app.
This routine helps me transition from a full-speed-ahead day to a full night of sleep. Skipping my routine is risky, and I might find myself spending a solid hour trying to solve the world's problems.
4.  Control Your Environment
Somethings are of course out of your control, but I've learned how to make minor tweaks for huge rewards. At home, I have a fan running and turn down the thermostat to about 66°F. As someone who loathes being cold, I was a huge skeptic about this, but it works.
When I'm traveling, I use earplugs and a Sleep Master sleep mask. I also have a white noise app loaded on my phone in case things get really bad. Like God forbid someone wants to watch a movie until midnight.
5.  Magnesium Supplement in Times of Stress
In high-stress times or after a series of fitful night's sleep, I resort to a magnesium supplement. Taking Natural Calm (the unflavored version) right before bed leads to deep sleep and crazy dreams.
I really use this as a last resort because I strive not to rely on supplements. Instead, I lean on mental practices such as meditation and breathing exercises.
Note: Get blood work done before doing any supplementation.
Take Some, Leave Others
Before you jump on the latest sleep technology or tracker, I suggest taking a close look at your habits and consider how they're affecting your sleep health.
Maybe you can even steal some of my healthy sleep practices or you can ignore them entirely and discover your own.
Regardless, for the sake of your mental agility, physical performance, and to be less of a grouch, work on defining our own healthy practices for a good night's sleep.
If you already have some tried and true practices, leave a note in the comments below!