The last leg of our journey took us through Moab, Utah, and Arches National Park.
As much as we wanted to camp one more night, below freezing temperatures pushed us to stay in a hotel.
Since we already bought camping food, we drove into Arches National Park, switched on our propane grill and cooked dinner at the La Sal Mountains Viewpoint.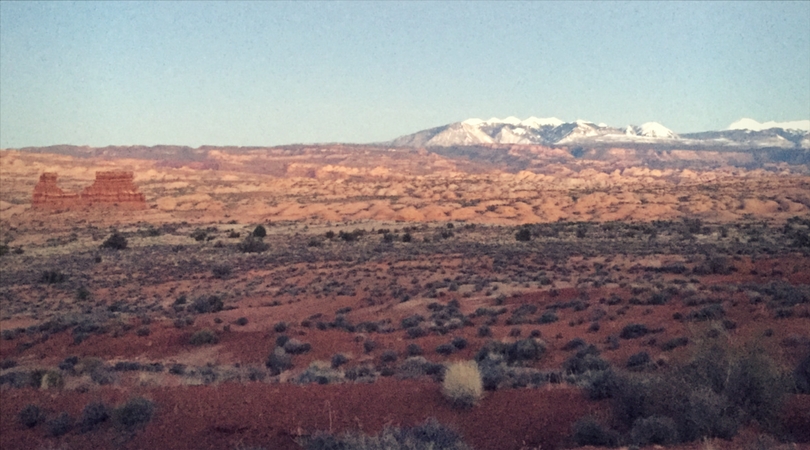 The sun dipped below the rocks and was quickly replaced with twinkling stars. We stared at the night sky for as long as we could tolerate the cold. The moon was absent, so it was the most vibrant starry night sky of our entire journey.
To continue our faux-camping experience, the next day we ate breakfast at the national park while watching the sunrise.
Arches National Park: Delicate Arch
Delicate Arch, a 3-ish mile roundtrip hike, is the most approachable and highly trafficked destination. Thanks to our early start time, we had the arch to ourselves. Score!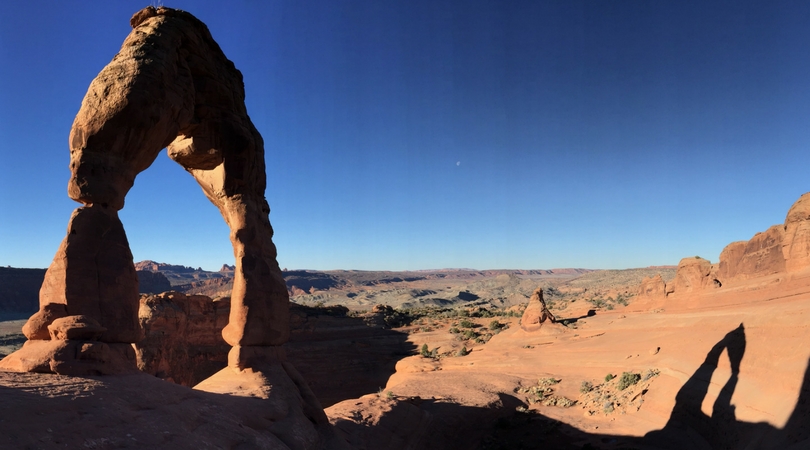 Being alone with the arch, its shadow and the mountains stirred my creativity. My fear of heights was in direct conflict with my desire to look at the arch from every single angle.
Arches National Park: Devil's Garden
Next, we journeyed into Devil's Garden for a primitive hike to some of the park's lesser-known arches. The first mile of the trail was smooth sailing (well, except for a quick rock scramble that shook my nerves). The next 6ish miles were primitive and we followed a "path" over the sandstone rock, marked by cairns. Needless to say, we had to do some backtracking.
Having grown up in Washington, I am used to trails surrounded by towering trees and dense ground cover. It is rare to see more than a few hundred feet in front of you. Views are the destination.
Hiking in Devil's Garden was a completely new experience. Long horizons and mountain ranges were almost always in sight. Rocky formations, not pine trees, towered around us. Solid sandstone, not damp dirt, lay underfoot.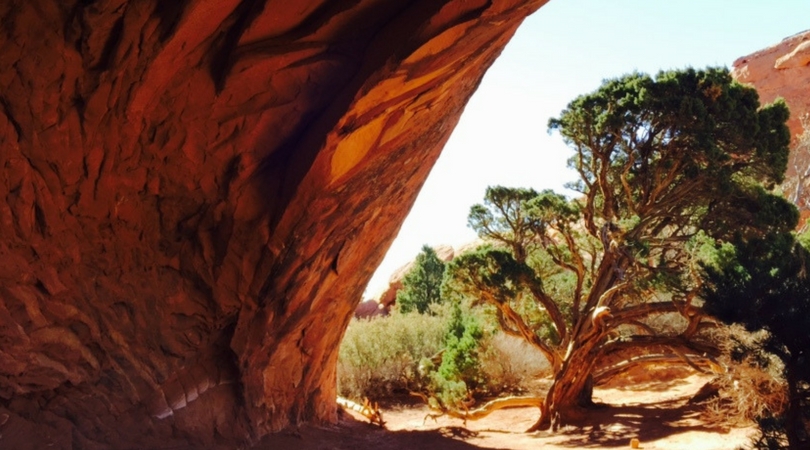 This striking dichotomy invigorated my adventurous soul. Despite tired bones, my feet did not want to stop exploring. I drank in the red rocks and wide-open sky.
Utah has five national parks, and public federal lands comprise two-thirds of the state. We barely scratched the surface.
The tension of wanting to explore more and the need to conclude our journey made leaving the region in our rearview mirror difficult. If it had been 10° warmer, we likely would've extended our journey a few more days. Or weeks.
A return trip to Utah is in order.